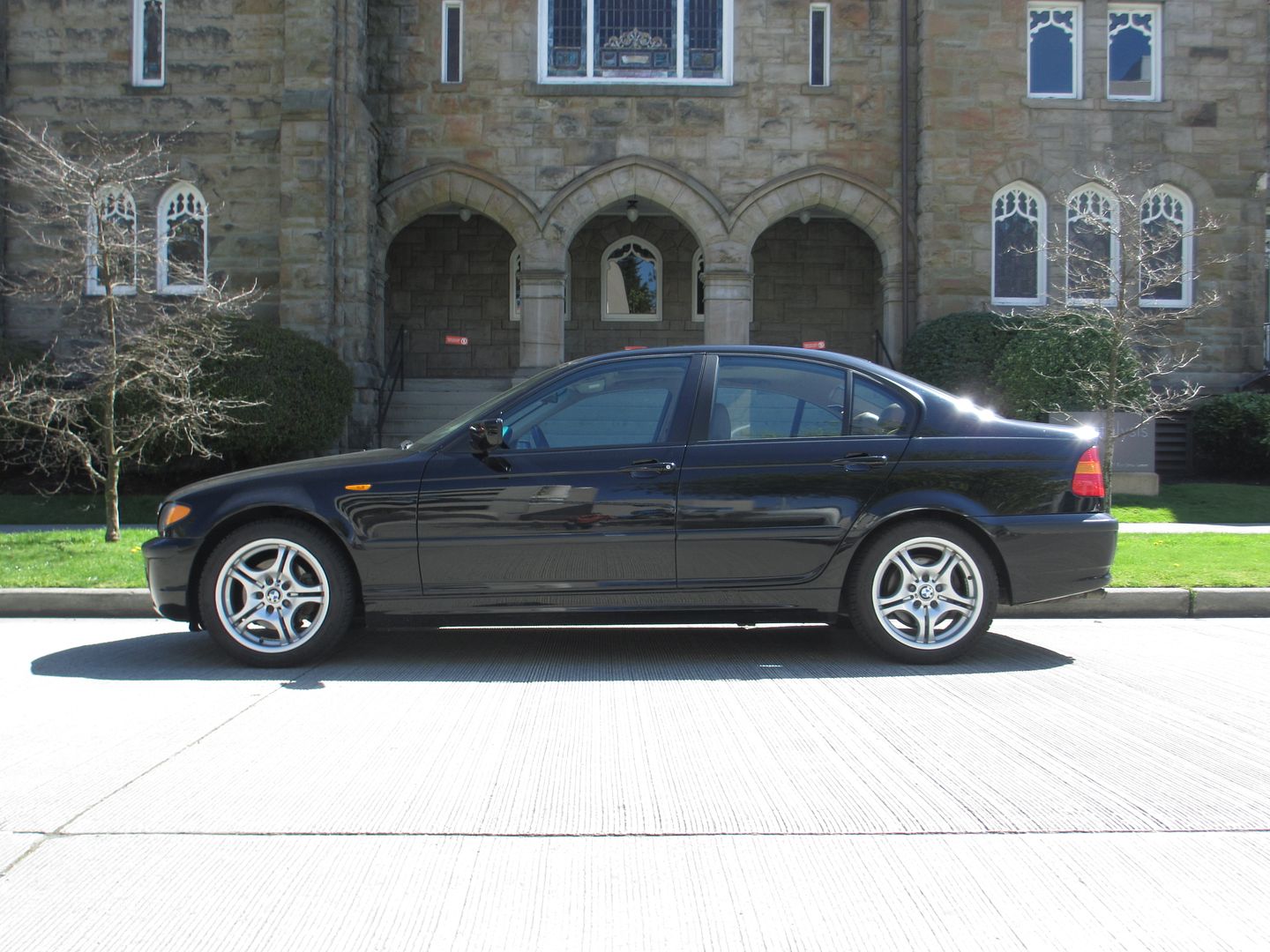 Selling my daily driver. I bought this car September, 2011 to be my reliable dd. It was a clean car with 85k when I started. It now has 93k and I have sorted/replaced/done pretty much everything possible to make it run/operate as well as I can. Almost every known E46 foible has been addressed to make it that way. In my opinion, it would be hard to find a better driving E46 automatic sedan. Most of the things I changed or replaced were preventative in order to avoid future problems. An '08 WRX STi showed up unannounced the other day so this one is for sale.
I have a clean, clear WA State title in hand in my name. No brands or liens on the title. 93,500 miles on the clock.
VIN: WBAET37433NJ24534
It has the cold weather package with heated seats/ski pass through and full leather. OEM Style 68 BMW 17" wheels from a 2002 330i with the M-Sport package. 5-speed auto trans. Keyless entry/alarm. Sunroof. Factory hid headlights and headlight washers.
This is most of the work I did, minus whatever I'm forgetting. Everything was done since September, 2011 and 85k miles. All the work was done at Ishii Motor Industries, BMW Seattle and Group 2 Inc:
~New rear wheel bearings, both sides.
~New rear discs, pads, parking brake shoes/hardware, etc. The front brakes look like they were recently done so I didn't touch them.
~All new power window regulators. All 4. Known problem area on any E46.
~New (rebuilt actually by
BMW General Module 5 (GMV, ZKE V)
) power door lock control module.
~New valve cover gasket.
~New engine oil (Mobil 1) and oil filter.
~New spark plugs.
~New pre-cat oxygen sensors, both front and rear.
~New fuel filter.
~New air filter.
~New cabin HVAC filter.
~New factory wiper blades.
~New passenger side wiper arm since the old one made a tiny "clunk" noise sometimes when the wipers were running.
~New oil pan gasket.
~New oil pump. Nothing was wrong with the pump, I just changed it since I had the oil pan off.
~New oil dipstick tube o-ring.
~New oil filter housing.
~Every plastic cooling pipe replaced. Including the heater pipes under the intake manifold.
~New water pump with metal impeller.
~New thermostat.
~New radiator.
~New radiator coolant overflow bottle.
~New accessory belts.
~New belt tensioner.
~New engine mounts.
~New transmission fluid, filter and gasket.
~New transmission shift shaft seal.
~New differential fluid.
~New driver side front seatbelt assembly. The old one was retracting slowly so I changed it.
~All new headlight washer bits and pieces. The pumps/nozzles/everything that goes in the bumper.
~All new windshield washer pumps/grommets. Both pumps, the one for the windshield and the one for the lights.
~New heater fan motor blower resistor aka the "porcupine".
~New AC expansion valve/o-rings and refrigerant gas. The old valve was fine however it had a leaking o-ring so I replaced the valve as well.
~New Continental DWS extreme performance all-season tires.
~New poly lower front control arm bushings.
~4 way alignment.
~New idle air control valve.
~New DISA valve.
~New cupholder.
~New BMW OEM M-Sport dead pedal, as would come in an E46 M3.
~New BMW floormats.
~New OEM grill kidneys with black slats instead of chrome.
~New driver side exterior trim piece, the one that goes around the front door and A-pillar. I tried having BMW Seattle glue the old one in place since it kept shifting forward on it's own. No such luck so I had them install a new one.
The car runs/drives exactly as it should. It looks just as good in person as in the pictures. Its never been smoked in or had pets as passengers.
call/text 206 369 4879