Here she is. I affectionately named her Oly Blue.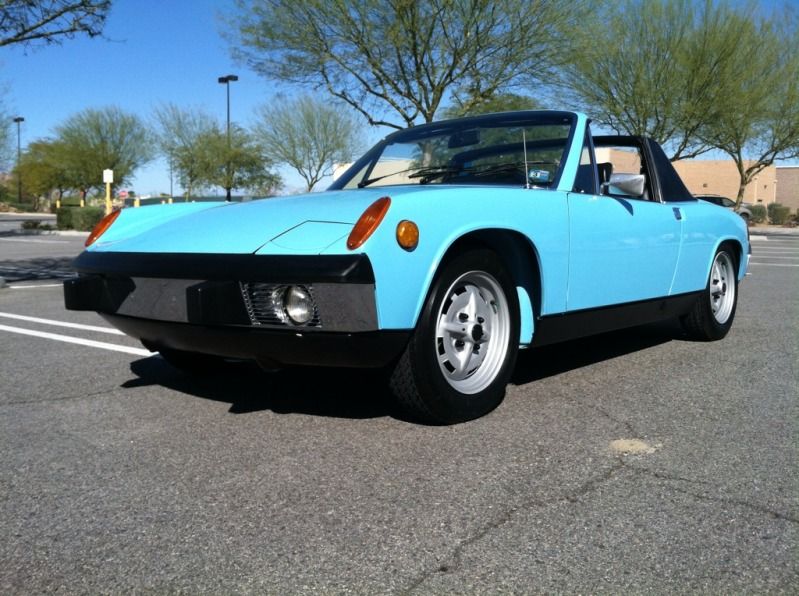 First purchased in Texas at Forest Lane Porsche Audi, where DPD air conditioning was installed. Other than the a/c and recently replaced visors, this 1974 appears as original as the day she left the factory. Original paint, upholstery, and even spare tire.
Paintwork is in extremely nice original condition. a few rock chips and door chips, but those the patina of her super low 25,000 miles.
Originally purchased by Dr. James Reese of Rockwall TX, the car was often seen around the small town as his daily driver. At approximately 12,000 miles, he sold it to a young man, Greg Foerster also if Rockwall Texas, who drove it sparingly until 1987. In that year, at 25,000 miles, he parked it in his grandmother's garage under cover, and left it.
Oly Blue sat almost completely undisturbed for 23 years.
Some 23 years later, Mr. Foerster, now living in CA, was reminded that he still owned this little babyand he might want to remove it from its hiding spot. A friend of his posted it on this site for sale as is in July of 2010.
It received a lot of attention at that time, and Wayne Fry, living in the area, volunteered to go take pics for me and other interested buyers. Under 23 years of dust was a virtual 914 time machine.
I bought the car from the pics and history, and set about getting her running again. Much, much cleaning, effort, and money was spent on bringing her back to life.
Thanks to Steve Floyd at Desert Performance and Don Kravig of Precision Motion for all mechanical work.
So here she is, one of the lowest mileage, original condition Porsche 914 I have ever heard of. Before she goes to auction, or E-Bay where she is sure to be snapped up by a European buyer and returned to her homeland, I offer her here for the 914 brethren.
Asking Price is $21,000 Firm will consider interesting partial trades, especially Porsche
760-625-6488
MANY morepics to be found here:
http://photobucket.com/olyblue